Nursery Life
The nursery day is lively and fun. Supported by adults who care for and know them well, our children are encouraged to be curious as they encounter a host of new experiences.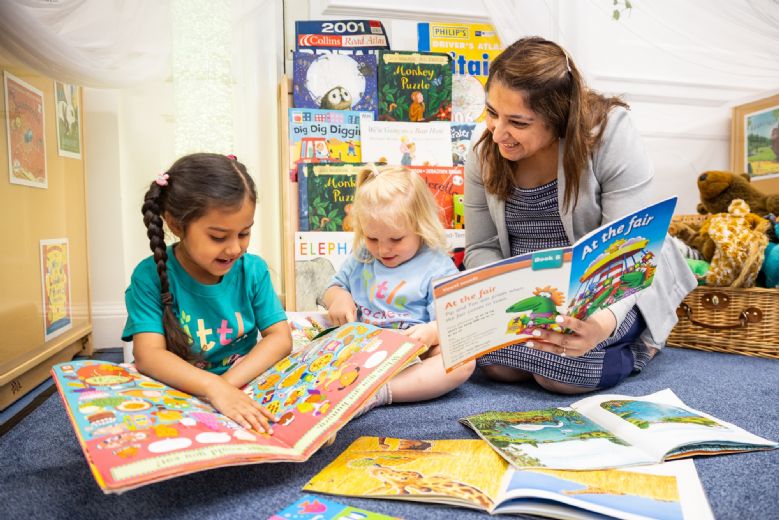 Learning spaces change to reflect their interests and needs and access to our outdoor areas means they are able to work and explore on a larger scale using elements of the natural world.
The nursery day runs from 7.45am to 6.00pm, 51 weeks a year to cater for the needs of working parents. Term time only places and flexible morning and afternoon sessions are also available. A minimum of two sessions a week is recommended for two-year olds and four sessions for over three-year olds.
Outside play takes place in the morning and afternoon, whatever the weather, thanks to our covered area and our very own wood.
PE, French, Forest School and Making Music classes are also included during the week, taught by specialists.
Each session ends with a joint activity for the Dormice, Hedgehogs and Badgers, such as singing or story time.
meals
Depending on what sessions they are staying for nursery children have snacks, lunch and tea included.
A snack is offered morning and afternoon, with milk or water available with fruit in the morning and a plain biscuit in the afternoon.
Lunch for nursery starts early at 11.30am in the dining room to give the children a bit longer, tea is also eaten in the dining room at 3.30pm.
Menus change daily and a range of healthy food options are available. Menus include traditional favourites such as Shepherd's Pie, Pasta and Curry.

The Dormice (children aged 2) are encouraged to follow their natural urges to be curious and explore their world, to think for themselves, and to use their imagination. With lots of energy to burn, children experience fun and investigative activities that have been carefully selected to stimulate minds, talk and foster understanding through playful interactions.
Those children needing a sleep can go down for as long as they need. Toilet training is part of the learning process, we encourage children to become independent over time.

The Hedgehogs (children aged 3) learn by doing, having fun and finding out why.
Children are encouraged to play, learn and have fun whilst using all of their senses to develop their individual interests, skills and most importantly their own personalities through carefully planned activities and opportunities.
Through valuable discussion children explore their world, making decisions, judgements, forming opinions and understanding why things work or happen, answering all those 'why?' questions.

The Badgers (children aged 4 ) in their important pre-school year, continue to learn through play, but are encouraged to become independent in their investigations and choices as they get ready for the transition to Reception.
Progress is carefully observed and recorded, and next steps in learning are always strived for.
transition to reception
A large proportion of our nursery children move up to the Reception class in Crackley Hall and they are given priority for places. The Reception classroom is sited next door to the nursery rooms, which makes for a smooth transition as they will get to know the Reception staff and environment before moving up to 'big school'.
In addition to our regular open events, we have a specific Nursery and Reception Information Evening each year for parents of children entering Nursery or Reception.
Mrs Susan Glen-Roots, Assistant Head (Head of Early Years and Key Stage 1) is responsible for the Reception class at Crackley Hall, if you would like to visit or speak to her about the transition from Nursery to Reception please get in touch they would be happy to hear from you.